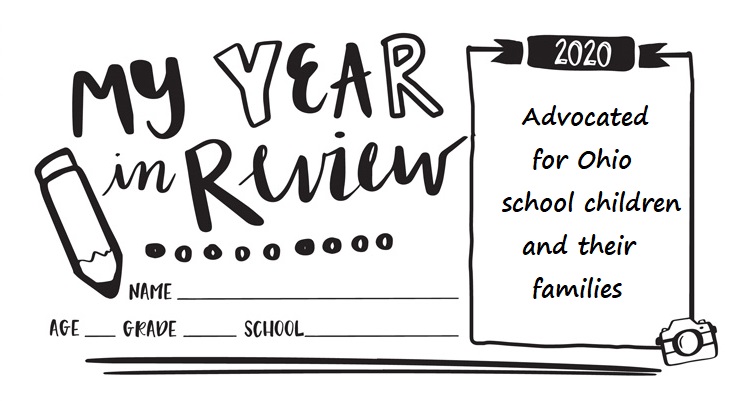 What a busy year for public education advocacy in the Buckeye State!
There's an "Ouch" in Every Voucher: Early in 2020, Public Education Partners (PEP) led a series of actions to push back against continued school voucher expansion in Ohio, which allows parents to use tax dollars for private and parochial schools through the EdChoice Program. The pro-privatization contingent in the Ohio legislature had widened the definition of a low-performing school to the point of absurdity, expanding the list of districts with "under-performing" schools from 40 in the fall of 2018 to 139 in 2019 and around 400 — nearly two-thirds of all districts in the state — by 2020.
Celebrate Public Education: In late January, Public Education Partners and the Ohio Coalition for Equity & Adequacy of School Funding requested that all Ohioans consider joining state, county, city, and school district leaders across the state in officially recognizing January 26 – February 1, 2020 as PUBLIC EDUCATION WEEK in Ohio with official proclamations. The 3rd annual "CELEBRATE PUBLIC EDUCATION" event was presented in the Statehouse Atrium – it was a wonderful experience with talented, hard-working students and teachers sharing their music, drama, literature, poetry and videos "LIVE!" from all around our state.
Teamwork is Dreamwork: Following the lead of our contacts at the Wisconsin Public Education Network, PEP worked with friends of public education Senator Teresa Fedor and Rep. Phil Robinson in the spring to organize a formal request of Ohio's Congressional Delegation to get Congress to increase the Education Stabilization Fund investment by $100 billion for K-12 education. Forty-four members of the Democratic caucus of the Ohio Legislature signed a letter calling on their U.S. Congress counterparts to bring more funding to the state's public school districts in the next appropriations bill related to COVID-19.
Respect Science: In mid-summer, PEP wrote a position paper and had an op-ed published in the Columbus Dispatch concerning schools during the pandemic. PEP urged Ohio to embrace a statewide commitment to remote learning until the pandemic was brought under control, adding that the return to school buildings for on-site teaching and learning should be reassessed quarterly following science-based evaluations of the containment of the virus.
Oppose School Privatization: PEP teamed up with edu-blogger Jan Resseger to create the "Four Education Goals for Political Candidates," which we sent to the Biden campaign and the Trump campaign. The goals included advocating for adequate and equitable school funding, opposing school privatization, pushing for the elimination of high-stakes standardized testing, and heeding the advice of experienced certified public school teachers.
Vouchers Hurt Ohio: Ohio's traditional public school systems have seen state lawmakers drain $20 billion from their budgets over the years to support charter and private schools, and PEP Board member William Phillis, executive director for the Coalition for Equity & Adequacy in School Funding, said in mid-December that public school districts hired a Cleveland law firm to sue the state. The basis would be that Ohio's elected officials are failing to meet their constitutional duty to fund a "thorough and adequate" system of public schools. Instead of setting up a system based on inequitable property taxes, state lawmakers and governors have robbed public schools in the name of school choice.
Ohio Kids Can't Wait: The rest of 2020 was devoted to getting the Fair School Funding Plan (SB 376/HB 305) passed. The comprehensive efforts involved in the formulation of SB 376/HB 305 gave many legislators confidence that future legislatures could build on its framework. The Ohio House of Representatives passed the proposed new plan (HB 305) by a huge margin early in December, but the Ohio Senate Finance Committee didn't even hold open hearings on the Senate's companion bill, introduced as Senate Bill 376. PEP and the Cincinnati Federation of Teachers hosted an event in Columbus called "How the Grinch Stole the Fair School Funding Plan from Ohio Children." Public education advocates met in front of the Ohio Statehouse to deliver stockings filled with coal, failed report cards, and some holiday songs to Statehouse "Grinches" – highlighting how Ohio's children have once again been failed by legislators in the Statehouse. A petition, asking that the current Fair School Funding Plan be reintroduced and passed in January 2021, already has well over 500 signatures. Please sign and share!
Public Education Partners looks forward to continuing to lead Ohioans to effectively advocate for public education in 2021!