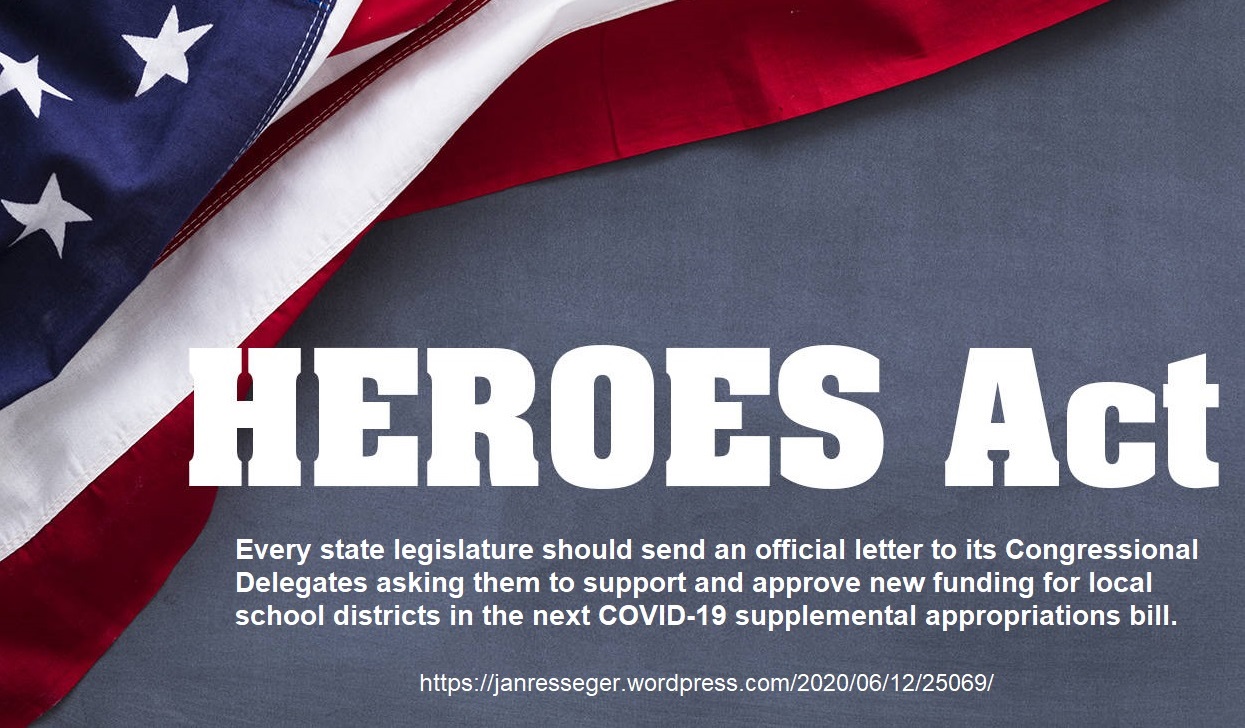 THREE CHEERS for the Wisconsin senators and representatives who sent a letter to their Congressional Delegation asking them to support and approve new funding for local school systems in the next COVID-19 supplemental appropriations bill.
Wisconsin State Representative Sondy Pope, the ranking member of the Assembly Committee on Education, stated, "While the COVID-19 pandemic has been devastating to so many facets of our lives, we cannot waver in our commitment to providing quality public education to our citizens. If approved, these federal funds will alleviate some of the hardships local school districts are likely to endure. The urgency of this situation cannot be overstated, the sooner we take steps to address the projected revenue shortfalls, the better equipped district administrators will be to provide the education that our students deserve. Thank you to all the legislators who signed on to support a substantial investment in the academic and economic future of our state and country."
In May, Ohio edu-blogger Jan Resseger sent Public Education Partners a copy of that letter and suggested that PEP should help facilitate something like it in Ohio. William Phillis, Executive Director of the Ohio Coalition for Equity & Adequacy of School Funding, agreed that it would be very meaningful if Ohio legislators would make a similar request to its Congressional delegates.
Resseger originally received the letter in an email from Wisconsin Public Education Network, and WPEN's executive director Heather DuBois Bournenane provided detailed background information about the letter. Bournenane mentioned that her public education network hopes that many other states will follow suit.
Avid friend of public education Senator Teresa Fedor decided to help organize a similar formal request of Ohio's Congressional Delegation. Sen. Fedor moved the initiative forward in the Ohio Senate and Representative Phil Robinson reinforced the effort with the Ohio House, and 44 members of the Democratic caucus of the Ohio Legislature signed a letter calling on their U.S. Congress counterparts to bring more funding to the state's public school districts in the next appropriations bill related to COVID-19.
According to the Ohio Capital Journal, the state legislators mentioned the $775 million budget cuts Ohio Gov. Mike DeWine said were required to compensate for coronavirus losses, which included $300 million in public schools, $55 million in line item cuts, and $110 million coming from colleges and universities. $76 million of that cut comes from an across-the-board 3.8% cut to the state share of instruction.
The letter asked that Congress increase the Education Stabilization Fund investment by $100 billion for K-12 education. In March, $2 trillion in federal CARES Act funding was signed into law, with $30.75 billion for the stabilization fund.
"These funds need to be accountable, but as flexible as possible, so each district and community can fill budget holes, continue to provide services, and expand them based on their unique needs during these challenging times," the legislators wrote in the letter.
Comprehensive services will be needed as in-person learning becomes a possibility in the state, as well, legislators said. With that in mind, additional funds are needed for Title I and students under the Individuals with Disabilities Education Act for summer school and after-school programs.
Jan Resseger posted a column on her education blog thanking the members of the Democratic Caucus of the Ohio Legislature for reaching out to members of the Ohio Congressional delegation on behalf of urgently needed additional federal COVID-19 relief funding for our state's public schools.
Public Education Partners joins Wisconsin Public Education Network to strongly encourage other state legislatures to consider sending letters to Congress with the same message.
Our nation's public school districts will continue to experience a tremendous loss in revenue due to the COVID-19 pandemic, and there will likely be massive funding freezes in the second year of the fiscal biennium. These shortfalls will be devastating to public schools without appropriate federal aid.