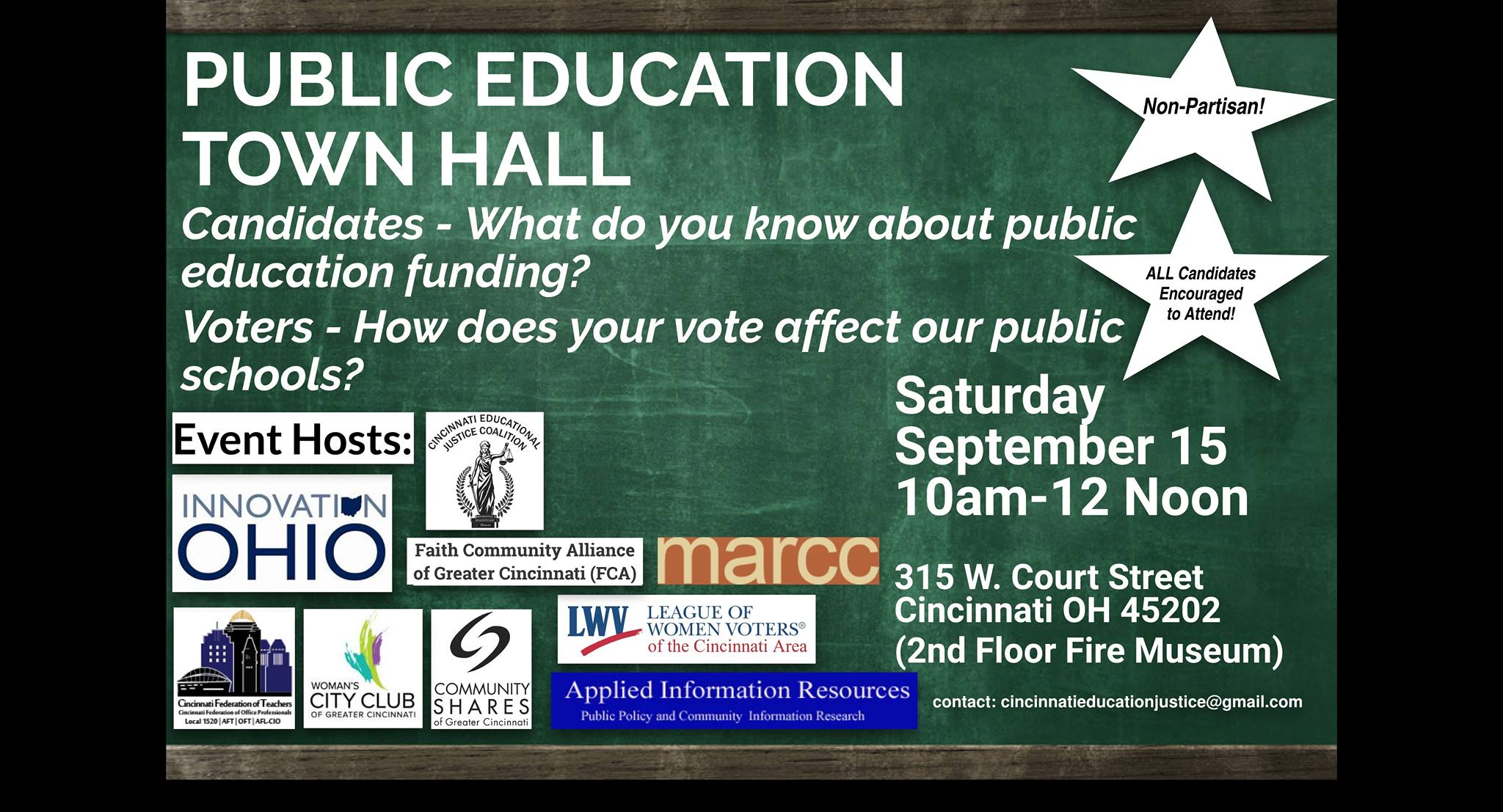 The Cincinnati Educational Justice Coalition (CEJC) will join several local Cincinnati civic organizations to host a "Public Education Town Hall" that will educate candidates and the public on school funding, and how our elected officials influence public school funding. The CEJC joins education justice organizations in cities across the nation in conjunction with our national affiliate the Alliance to Reclaim Our Schools (AROS); Public Education Town Halls will be hosted all on the same week in September across America to uplift the critical issues of public education leading up to the November elections. The program will include an informational session on federal, state, and local public education funding and how elected officials' decisions impact public schools.
Presenters include Stephen Dyer, Education Policy Fellow from Innovation Ohio, and members of the Cincinnati Educational Justice Coalition – CEJC including CEJC Coordinator Michelle Dillingham and Parent Advocate Marlena Brookfield. Candidates will have the opportunity to address the audience to share what they've learned from the session, and their commitments to public education if they are elected. The event will be moderated by Marcia Futel, Education Committee Chair of the League of Women Voters of the Cincinnati Area.
Event co-sponsors include: League of Women Voters of the Cincinnati Area, Metropolitan Area Religious Coalition of Cincinnati (MARCC), and the Woman's City Club of Greater Cincinnati, Community Shares of Greater Cincinnati, Applied Information Resources (AIR, Inc.), the Cincinnati Federation of Teachers – Official the Faith and Community Alliance of Greater Cincinnati, and Innovation Ohio.
This event will be LIVESTREAMED on Facebook.