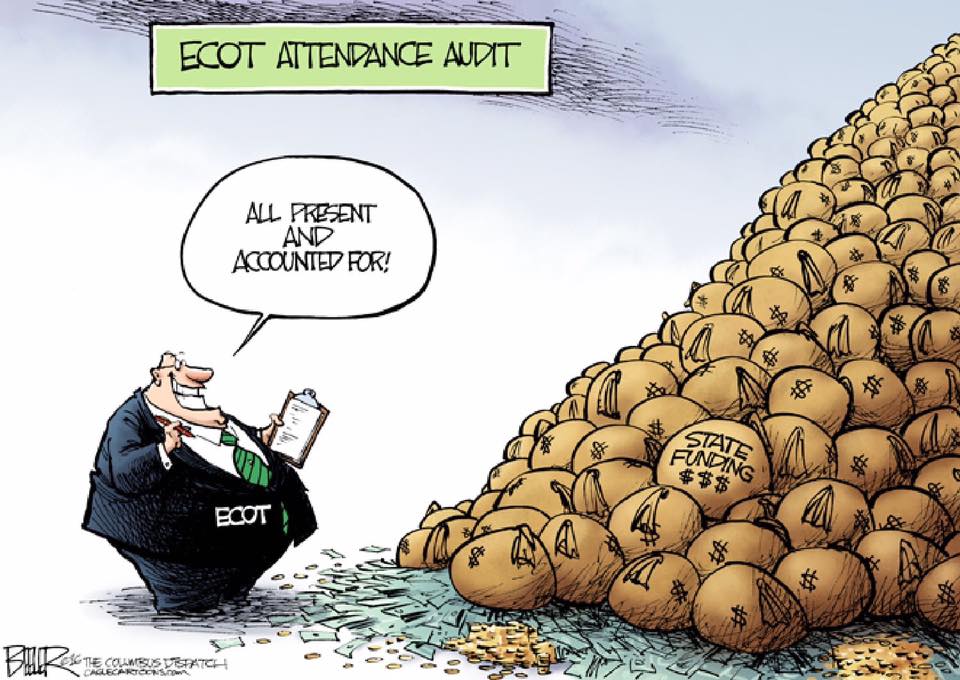 Sponsored by OH12, OH15, OH3, Public Education Partners (PEP), Ohio Coalition for Equity and Adequacy of School Funding, Plunderbund, and Ohio BATs.
Space is limited. Register here to reserve your spot!
http://act.indivisible.org/event/attend-local-actions/14115
Our panel of experts will include:
– Steve Dyer, Education Fellow for Innovation Ohio;
– Denis Smith, former consultant to the Ohio Department of Education's charter school office;
– Rachel Coyle, former aid to Sen. Joe Schiavoni, one of the Ohio General Assembly's leaders in charter school reform;
– Sandy Theis, formerly statehouse reporter for 25 years and ProgressOhio Executive Director for 4yrs. While at Progress Ohio, and still today, Theis has exposed a series of charter school scandals that have lead to past reforms and inspired current criminal investigations.
Citizens of the 12th congressional district–and all of Ohio–want to know more about the unfolding scandal surrounding ECOT and other charter schools. The session will discuss questions such as the following:
– Where did ECOT come from, how was it able to grow and thrive?
– How are ECOT and other charters impacting education in Ohio?
– What were the warning signs that the ECOT model might not be effective, and that ECOT itself was cutting corners and skimming profits?
– What were the failures of government oversight? What's the history there?
– What is the relationship between these charter schools and our Ohio legislators?
– What have we learned from critics, stakeholders, and whistleblowers about ECOT and other similar schools?
– How is the expanding scandal likely to affect races in November?
– How have ECOT and other similar online charters affected all of Ohio's schools and students?
– How best can we protect against similar abuses going forward–and at the same time address the fact that parents whose children are in failing or unsafe schools have a right to better options?
The event will include time for questions from the audience, and suggested actions they can take.