According to the Ohio Capital Journal, individual teachers, teachers' unions, the Fraternal Order of Police, anti-gun violence activists and others opposed the policy, but Ohio Gov. Mike DeWine signed legislation in June that could allow teachers to carry firearms in the classroom.
House Bill 99 grants local boards of education authority to decide whether to allow their teachers and school workers to carry firearms. Whether the bill establishes a quantitative legal minimum has been disputed. However, it says local school boards must require up to 24 hours of training from teachers before they can carry. Boards could choose to mandate more but this isn't required.
Prior law coupled with a recent state Supreme Court ruling required teachers to complete 700 hours of training before carrying, effectively forbidding the practice. The new law takes effect in September of 2022.
"This is a local choice, not mandated by the legislature nor by the government," DeWine said to reporters. "Each school board will determine what is best for their students, their staff and their community."
The SAFE OHIO SCHOOLS workshop has been designed to give local school leaders, good government groups, and community members detailed information and resources to help them understand all of the implications surrounding HB 99.
Please consider signing up for the SAFE OHIO SCHOOLS workshop, hosted by Honesty for Ohio Education- the training will be held virtually on Wednesday, July 27, at 6:00 PM.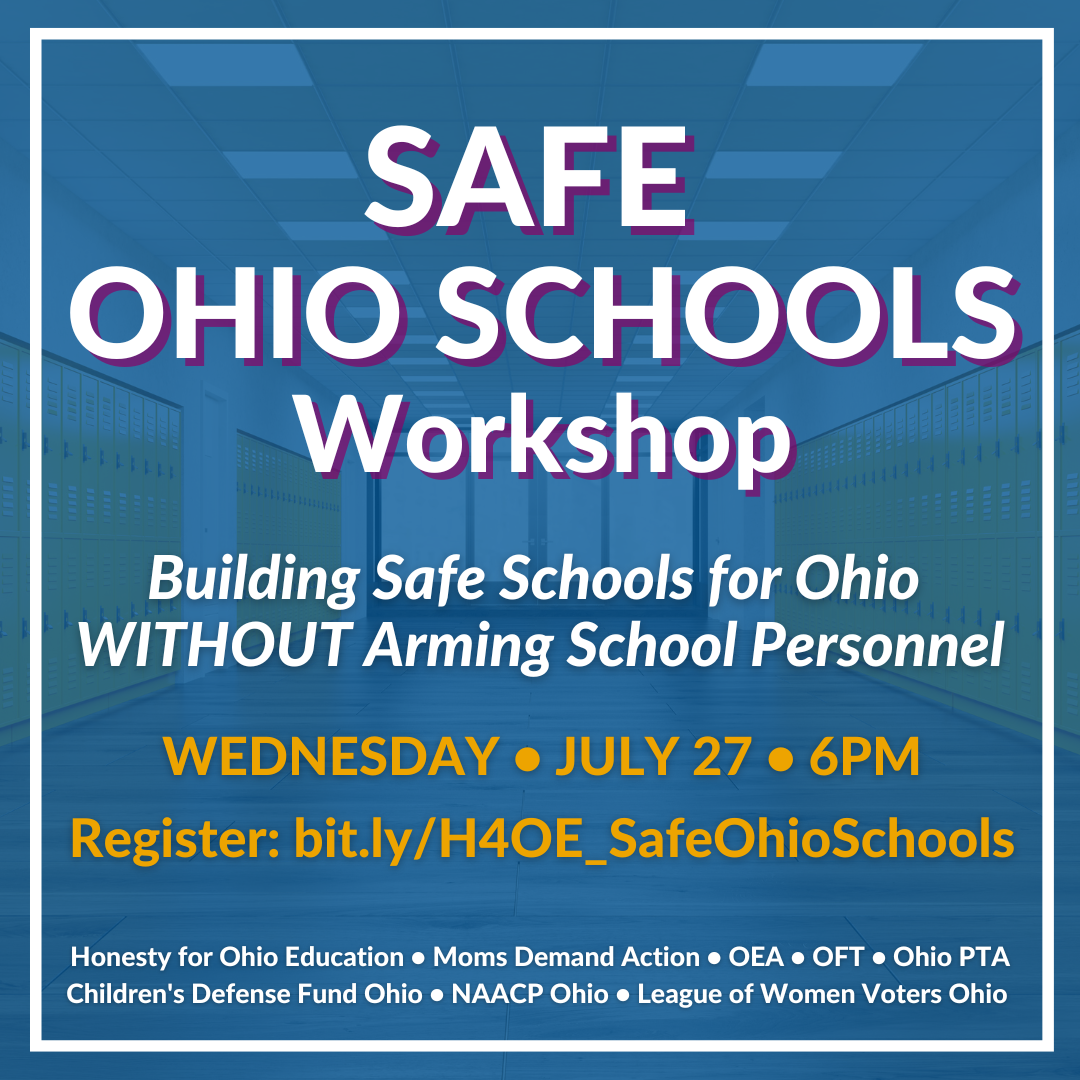 "Building Safe Schools Without Arming School Personnel"
Learn how to build safe schools that protect students, educators, and staff WITHOUT arming school personnel.
Hear from experts, education leaders, and advocates about best practices and steps your school can take to protect, not "harden" your school.
Workshop includes:
• History of arming school personnel in Ohio
• Best practices for safe schools
• Drafting and passing a Safe Ohio Schools resolution
• Taking the Safe Ohio Schools Pledge
• Sharing your Safe Ohio Schools policy
• Toolkit and Resources
This workshop is hosted by Honesty for Ohio Education in strong partnership with Moms Demand Action, OEA, OFT, Ohio PTA, Children's Defense Fund Ohio, NAACP, and League of Women Voters Ohio.
Jul 27, 2022 06:00 PM in Eastern Time (US and Canada)
Sign up HERE.
Please share this SOS with your local school leaders, and encourage them to join the SAFE OHIO SCHOOLS network!