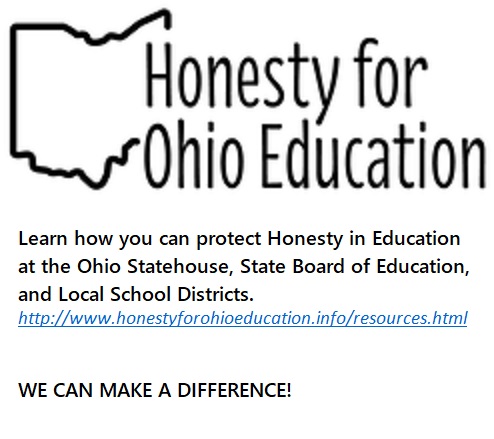 On Wednesday, March 9, the Honesty for Ohio Education coalition hosted a press conference in the Ladies Gallery of the Ohio Statehouse. The coalition was there to defend Ohio students' freedom to learn and educators' freedom to teach a full, honest history of our nation. Public Education Partners fully supports the work of the coalition, which opposes HB 327, a bill that seeks to divide Ohioans, censor teachers and threaten schools' funding.
Ohio hosts some well-funded "political action committees" that spread propaganda about public schools "indoctrinating" Ohio's children.
That assertion is simply not the case.
Ohio school districts are not teaching white children they should hate themselves or telling children of color that they are inferior and being held down.
Children are not taught that meritocracy or traits such as a hard work ethic are racist or sexist.
Public schools do not require a student to advocate for or against a specific topic or point of view.
This divisive rhetoric has led to nationwide bills, like House Bill 327, that have been created and promoted by extreme ideological organizations, like the American Legislative Exchange Council (ALEC), the Heritage Foundation, and the Freedom Foundation, and advertised by their supporters in the media like FOX News, One American News (OAN), and other biased news sources.
These extreme groups have built an elaborate campaign of lies and fear, planning to weaponize the mistrust they've created to further diminish and privatize our public school system.
In response to this negative campaign, the American Association of University Professors, the American Historical Association, the Association of American Colleges & Universities, and PEN America published a joint statement of their firm opposition to legislation that would restrict the discussion of "divisive concepts" in public education institutions.
"The clear goal of these efforts is to suppress teaching and learning about the role of racism in the history of the United States," the letter explains. Education proceeds from exploration, facts, and civil debate. "These legislative efforts," on the other hand, "seek to substitute political mandates for the considered judgment of professional educators, hindering students' ability to learn and engage in critical thinking across differences and disagreements. Americans of all ages deserve nothing less than a free and open exchange about history and the forces that shape our world today."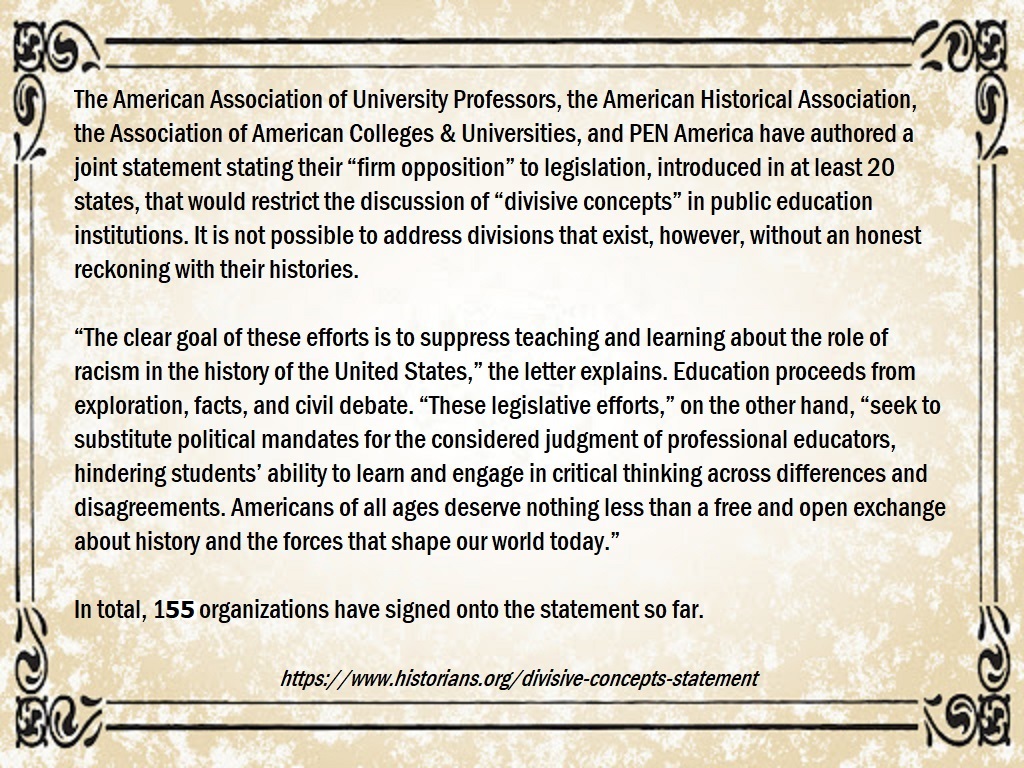 So far, 155 learned organizations have signed the statement, including the Accrediting Commission for Community and Junior Colleges, ACPA-College Student Educators International, African American Intellectual History Society, African Studies Association, Agricultural History Society, Alcohol and Drugs History Society, American Academy of Religion, American Anthropological Association, American Association for State and Local History, American Association of Colleges for Teacher Education, American Association of Community Colleges, American Association of Geographers, American Association of Hispanics in Higher Education, American Catholic Historical Association, American Classical League, American Council of Learned Societies, American Council on the Teaching of Foreign Languages, American Counseling Association, American Educational Research Association, American Federation of Teachers, AFL-CIO, American Folklore Society, American Humor Studies Association, American Library Association, American Philosophical Association, American Political Science Association, American Psychoanalytic Association, American Society for Environmental History, American Society for Theatre Research, American Society of Criminology Executive Board,  American Sociological Association, American Studies Association, Anti-Defamation League, Association for Ancient Historians, Association for Asian American Studies, Association for Asian Studies, Association for Counselor Education and Supervision, Association for Documentary Editing, Association for Slavic, East European, and Eurasian Studies, Association for Spanish and Portuguese Historical Studies, Association for the Study of African American Life and History, Association for the Study of Higher Education, Association for the Study of Literature and Environment, Association for Theatre in Higher Education, Association of Academic Museums and Galleries, Association of African American Museums, Association of College and Research Libraries, Association of Collegiate Schools of Planning, Association of Governing Boards of Universities and Colleges, Association of Research Libraries, Association of University Presses, Association of Writers & Writing Programs, The Authors Guild, Berkshire Conference of Women Historians, Business History Conference, Center for Research Libraries, Central European History Society, Chinese Historians in the United States, ClassCrits, Coalition of Urban & Metropolitan Universities, College Art Association, Committee on Lesbian, Gay, Bisexual, & Transgender History, Comparative and International Education Society, Conference on Asian History, Conference on Faith and History, Consortium of Humanities Centers and Institutes, Contemporary Freudian Society, Coordinating Council for Women in History, Council on Social Work Education, Czechoslovak Studies Association, Dance Studies Association, Executive Committee of the American Comparative Literature Association, Forum on Early-Modern Empires and Global Interactions, Freedom to Read Foundation, French Colonial Historical Society, German Studies Association, Higher Learning Commission, Hispanic Association of Colleges and Universities, Historians for Peace and Democracy, Historical Society of Twentieth Century China, Immigration Ethnic History Society, International Society for the Study of Trauma and Dissociation, Italian American Studies Association, John N. Gardner Institute for Excellence in Undergraduate Education, Keats-Shelley Association of America, Labor and Working Class History Association, Middle East Studies Association, Middle States Commission on Higher Education, Midwestern History Association, Modern Language Association, NAFSA: Association of International Educators, NASPA: Student Affairs Administrators in Higher Education, National Association for College Admission Counseling, National Association for Equal Opportunity in Higher Education, National Association of Dean and Directors Schools of Social Work, National Association of Diversity Officers in Higher Education, National Association of Graduate-Professional Students, National Association of Social Workers, National Coalition for History, National Council for the Social Studies, National Council of Teachers of English, National Council on Public History, National Education Association, National Prevention Science Coalition to Improve Lives, National Women's Studies Association, Network for Public Education, New England Commission of Higher Education, North American Conference on British Studies, Northwest Commission on Colleges and Universities, Ohio Academy of History, Organization of American Historians, Pacific Coast Branch-American Historical Association, Peace History Society, Phi Beta Kappa Society, Popular Culture Association, Radical History Review, Rhetoric Society of America, Roy Rosenzweig Center for History and New Media, Scholars at Risk, Shakespeare Association of America, Society for Austrian and Habsburg History, Society for Classical Studies, Society for Community Research and Action, Society for Ethnomusicology, Society for French Historical Studies, Society for Historians of American Foreign Relations, Society for Historians of the Early American Republic, Society for Historians of the Gilded Age and Progressive Era, Society for Historical Archaeology, Society for the Study of Early Modern Women and Gender, Society for the Study of the Multi-Ethnic Literature of the United States, Society for the Study of Social Problems, Society for US Intellectual History, Society of American Historians, Society of Architectural Historians, Society of Civil War Historians, Society of Transnational Academic Researchers (STAR Scholars Network), Southern Association of Colleges and Schools Commission on Colleges, Southern Historical Association, United Faculty of Florida – University of Florida, NEA/AFT/FEA, AFL-CIO, University Film and Video Association,  Urban History Association, WASC Senior College and University Commission, Western History Association, Western Society for French History, and the World History Association.
Yes, the list is lengthy, but please note that these esteemed groups are not extremist groups; rather, many are subject area experts. They are exactly the type of scholarly organizations that legislators should acknowledge, instead of extreme ideological associations carrying out some destructive political strategy.
It's important to understand that Ohio school district diversity/equity/inclusion (DEI) programs seek to provide students with multiple perspectives around historic events, help them make connections, and provide context around those events. HB 327 would make it much harder for school districts to initiate programs to encourage DEI in school districts.
Legislators who endorse this outrageous policy need to know that they make it harder to set our students up for success when they ignore real issues and fixate on a disinformation campaign for political gain.
For that matter, how could any compassionate adult speak out against promoting diversity, equity, and inclusion in public schools?
Ohio children deserve honesty in education- they must be provided an accurate understanding of our nation's history and governmental institutions. Our students are worthy of a culturally responsive curriculum that reflects their collective ancestry and backgrounds to empower them to value every culture.
The path to equity begins with an unbiased understanding of the past based on factual evidence, and educators need to be able to help students honestly explore American history without being accused by extremists who mislabel their teaching as "divisive."
The Board of Public Education Partners absolutely rejects the false narrative of HB 327 and encourages all Ohioans to TAKE ACTION now against this dangerous policy!