An Ohio political party issued a powerful statement against school privatization by unanimously passing this resolution at its Executive Committee meeting.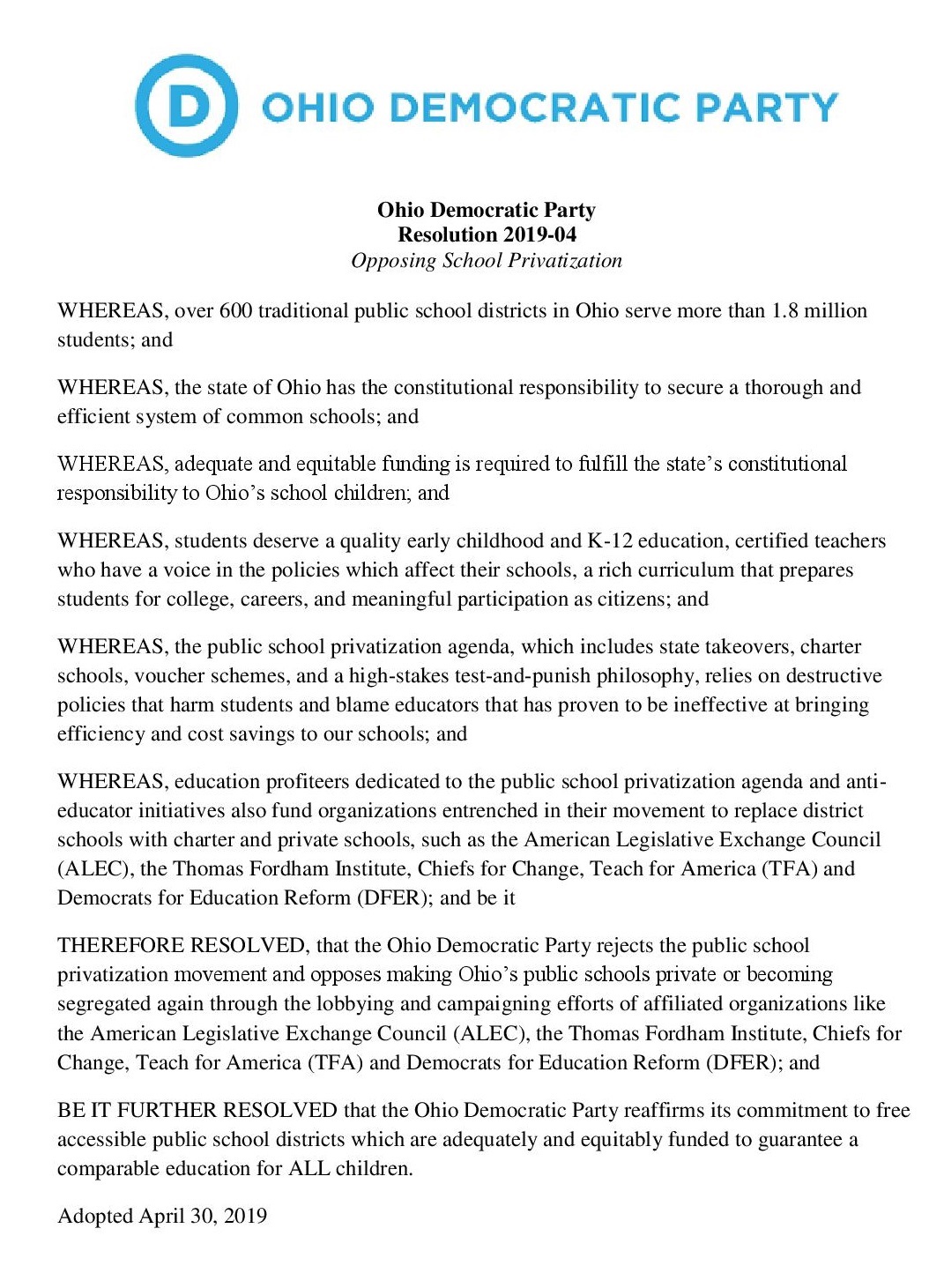 Diane Ravitch published this important story of the Ohio Democratic Party's support for public education and encouraged every political party around the nation to follow its lead.
Public education advocates can help make it happen by forwarding this post to their state political party (any party) leadership, and advising them how crucial it is to take a stand. Advocates could even offer to draft the document for the party by copying, pasting, editing, and filling-in-the-blanks in the template below. It's a simple yet significant task to create a resolution that supports the state's public school districts and rejects the school privatization agenda.
(Fill-in-the-Blank) Resolution
Opposing School Privatization
WHEREAS, over ____ traditional public school districts in (State) serve more than ___ million students; and
WHEREAS, the state has the constitutional responsibility to secure a thorough and efficient system of public school districts; and
WHEREAS, adequate and equitable funding is required to fulfill the state's constitutional responsibility to (State)'s school children; and
WHEREAS, students deserve a quality early childhood and K-12 education, certified teachers who have a voice in the policies which affect their schools, a rich curriculum that prepares students for college, careers, and meaningful participation as citizens; and
WHEREAS, the public school privatization agenda, which includes state takeovers, charter schools, voucher schemes, and a high-stakes test-and-punish philosophy, relies on destructive policies that harm students and blame educators that has proven to be ineffective at bringing efficiency and cost savings to our schools; and
WHEREAS, education profiteers dedicated to the public school privatization agenda and anti-educator initiatives also fund organizations entrenched in their movement to replace district schools with charter and private schools, such as the American Legislative Exchange Council, the Thomas Fordham Institute, Chiefs for Change, Teach for America, and Democrats for Education Reform; and be it
THEREFORE RESOLVED, that the (State Political Party) rejects the public school privatization movement and opposes making Ohio's public schools private or becoming segregated again through the lobbying and campaigning efforts of affiliated organizations like the American Legislative Exchange Council, the Thomas Fordham Institute, Chiefs for Change, Teach for America, and Democrats for Education Reform; and
BE IT FURTHER RESOLVED that the (State Political Party) reaffirms its commitment to free accessible public school districts which are adequately and equitably funded to guarantee a comparable education for ALL children.
Adopted: (Date)
Meet with the political party leadership and share the resolution, as well as the links to educate about why those organizations (ALEC etc) are bad for the state's schools. Ask that the resolution be considered for passage at the next central committee meeting, and be sure to request an invitation to the meeting.
To strengthen the chances of getting the resolution passed, contact the party's central committee members through personal letters, emails, FB messages, and phone calls to pass along the resolution and impress upon them how important it would be to make a bold statement against school privatization. Forward the resolution to the state's teachers' union(s) and other education organizations to make sure they are also on board.
Diane Ravitch wrote, "If every state political party passed similar resolutions, the candidates would be forced to be equally resolute in support of public schools."
PEP agrees – let's do it!
ALEC: https://www.alecexposed.org/wiki/Privatizing_Public_Education,_Higher_Ed_Policy,_and_Teachers
https://nepc.colorado.edu/blog/education-secretary
https://educationvotes.nea.org/tag/american-legislative-exchange-council/?_ga=2.54812715.1860193055.1550683722-197632480.1546258257
https://www.aft.org/resolution/opposition-alec-and-alec-education-agenda
Fordham:
https://nonpartisaneducation.org/Review/Articles/v14n6.pdf
https://www.sourcewatch.org/index.php/Thomas_B._Fordham_Foundation
Chiefs for Change:
https://www.inthepublicinterest.org/jeb-bush-emails/
http://chiefsforchange.org/ohio-superintendent-of-public-instruction-paolo-demaria-joins-chiefs-for-change-membership/
https://deutsch29.wordpress.com/2016/09/28/reform-selling-reform-chiefs-for-change-promoting-relay-graduate-school-of-education/
Teach for America:
https://www.salon.com/2014/01/13/teach_for_americas_pro_corporate_union_busting_agenda_partner/
https://deutsch29.wordpress.com/2018/11/26/teach-for-america-is-looking-for-a-lobbyist-interested/
https://www.rethinkingschools.org/articles/an-open-letter-to-new-teach-for-america-recruits
http://curmudgucation.blogspot.com/2019/03/teach-for-america-now-with-less-teaching.html
Democrats for Education Reform (DFER):
https://www.prwatch.org/news/2016/03/13065/how-dfer-leaders-channel-out-state-dark-money-colorado-and-beyond
https://www.coloradopolitics.com/news/dfer-why-colo-democrats-threw-it-out-of-their-state/article_9f431daf-b7c4-52ff-a528-ea0b812f7de2.html