Ohio Kids ROCKED the Statehouse during Public Education Partners' annual CELEBRATE PUBLIC EDUCATION ceremony on January 24th in honor of Public Education Week in Ohio.
Mighty marching band performances, dance, music, songs, poetry, art, sign language and video broadcasting projects were shared by inspirational students who turned PEP's CELEBRATE PUBLIC EDUCATION ceremony into a powerful testimonial and a vital vision for re-investing in Ohio's public schools.
Loudly and clearly, the audience and bi-partisan group of legislators witnessed strong academic and artistic student performances and heard the dynamic message from Public Education Partners: "STOP the failing state-takeovers of Ohio's Public Schools and START addressing the real issues underlying academic achievement gaps – children living in poverty and trauma need additional resources, supports and services to come to school healthy and ready to learn and grow each day."
Together, in growing numbers, PEP and Ohio's public school's teachers, students, parents, superintendents, principals and school board members are "Standing Up for Public Education" because "Kids' Lives and Ohio's Public Schools Matter!"
Wrap-Around Services Matter in Ohio's Public Schools!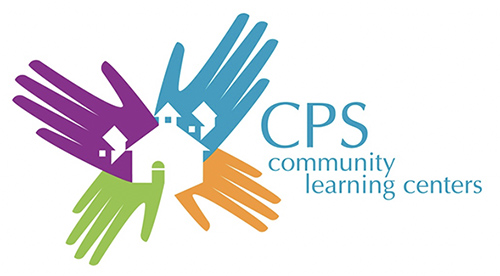 A visionary dream-turned-into-reality for Cincinnati's Public Schools was shared on the State House stage by an expert school resource team from Cincinnati's Community Learning Centers.
Almost twenty years ago, this dream was born. It was a dream of helping students and families in economic distress and trauma recover by offering health services, counseling, after-school programs, nutrition classes, parent and family engagement programs, career and college access services, youth development activities, mentoring, arts programming and more in each public school.
It was a dream shared by teachers, administrators, parents, students and community members based on the belief that communities and their public schools are strongly linked — one seldom succeeds if the other fails.
It was a visionary dream of supporting struggling students and their families by building partnerships with community organizations to build Community Learning Centers in each public school.
Today, almost twenty years later, Cincinnati Public Schools' Community Learning Center model has over 750 partnerships with community businesses and organizations that share resources, staff and support to help students and families facing challenges that are barriers to students' learning, growing and building healthy, happy and successful lives.
Dreams turn into reality one step-at-a-time! Thank-you Cincinnati Public Schools for forging the path for the rest of Ohio to follow. Public Education Partners is committed to working together to stomp out the failing "state takeovers" of public schools and passing legislation that will fund comprehensive "wrap-around" services that will tackle the root-problem of academic distress in our public schools.
Music Matters in Ohio's Public Schools!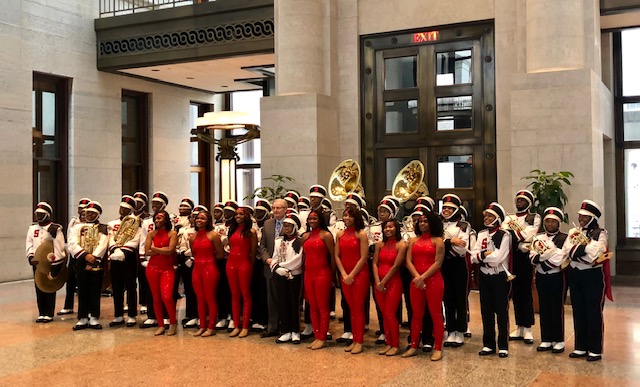 From the pulsing drum beats and blasting horns, to the dynamic dancing of East Cleveland's award-winning Mighty Shaw High School Marching Band and the talented guitar, trumpet and ukulele trio from Columbus City's Fort Haye's High School; music, song and dance spilled into the State House CELEBRATING PUBLIC EDUCATION.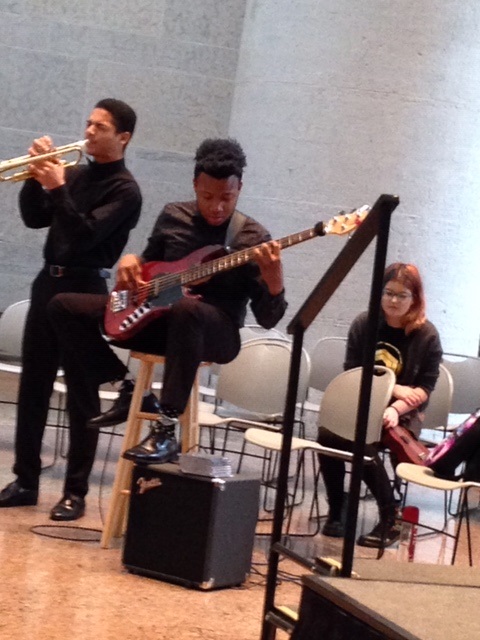 Diversity Matters in Ohio's Public Schools!All children, from different cultures, races and ability levels are welcomed, supported and included in Ohio's public schools.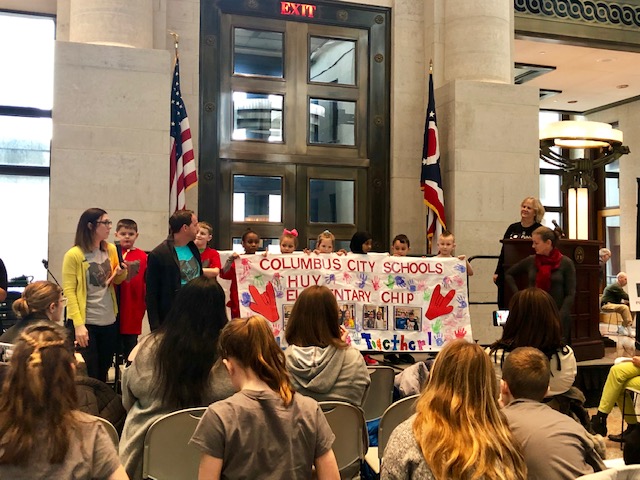 "LEARNING TOGETHER," was the theme of 1st grade hearing-impaired children supported by expert deaf educators in an inclusion setting with their 1st grade "hearing" friends from Huy Elementary in Columbus Public School district. These exuberant 1st graders shared their WORDS about "Learning Together" in their public school with the help of American Sign Language interpreters; "During 'Inclusion' we like to learn about each other, we like to make new friends, we like to play together, during 'Inclusion' we like to learn new things!"
CHOICE Matters in Ohio's Public Schools!
CHOICE was celebrated by Wickliffe Progressive Elementary School in Upper Arlington's Public Schools and Fort Hayes Metropolitan Education Center, of Columbus Public Schools. Both Wickliffe and Fort Hayes offer an arts/academic integrated alternative public school's CHOICE in their respective public schools' districts.
Art Matters in Ohio's Public Schools!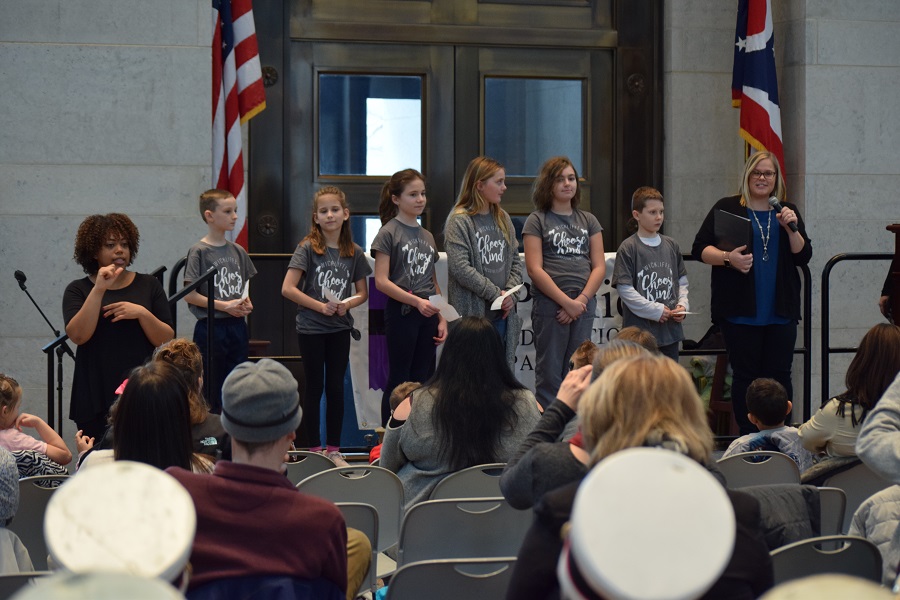 Wickliffe Progressive Elementary turned their love of art into a memorable connection between 4th grade students and adults in their community with Alzheimer's disease.  This community outreach Art project was shared through a beautiful slide show and poignant student reflections on the indelible impact of their shared experience together.
Performance Poetry Matters in Ohio's Public Schools!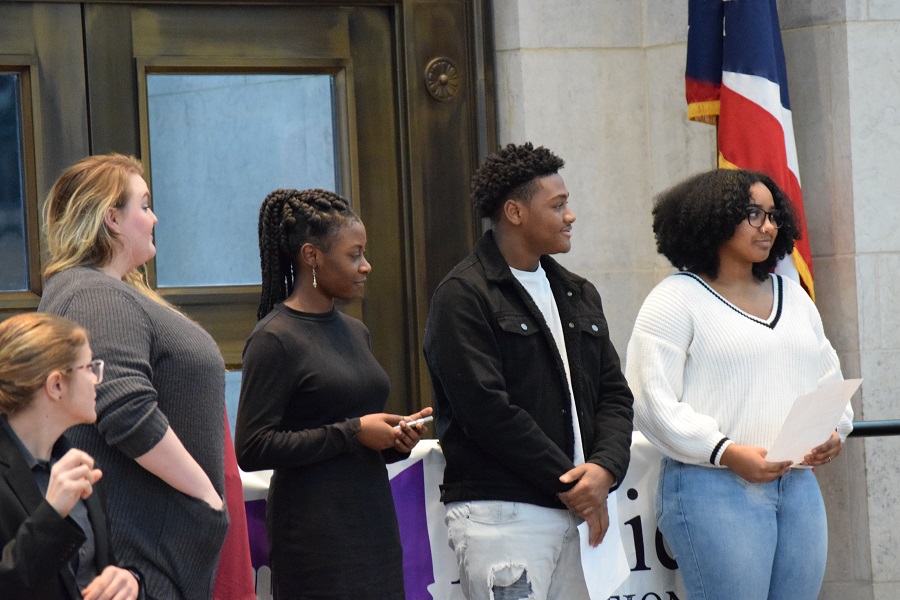 Words and phrases turned into masterful poetic performance art as English students from Fort Hayes High School's Poetry Slam Team held the audience spellbound while they "slammed down" some deeply introspective, original poetry for our audience.
Video Technology and Broadcast Journalism Matters in Ohio's Public Schools!
"Standing Up for Public Education" isn't only a powerful slogan, it also spurred on a flurry of original student-produced videos in a state-wide contest sponsored by the Ohio School Boards Association.
HUGE CONGRATULATIONS go out to the First, Second and Third place award winning video teams from Boardman, Upper Sandusky and Hoover High Schools for their incredible state-of-the-art video productions. Creating, collaborating, writing, producing, acting, directing, filming AND cutting-edge technology…. it doesn't get more exciting than that, no wonder these students think their Public Schools' ROCK!
Speeding across the screen in the Statehouse, students were captured sharing "live" testimonials in one-of-a-kind video productions about how their public schools have inspired them and made a difference in their lives; Robotics… Drama Club… Costume Design… Engineering Lab… Coding… Dance Teams… Math Club…. Quiz Bowl… Mass Media… Marching Band… Anatomy… Physiology … Spanish Club… Pop Culture Club… Football… Swimming… Debate Teams… Physical Education… Broadcasting Journalism… Local History Club… Music… Art… Novel Studies… TEACHERS… and more…
Celebrating Public Education Matters… Standing Up for Ohio's Public Schools Matters!
Public Education Partners would like to thank all our Public-School Teachers, Students, Parents, School Board Members, Leaders and Legislators who gathered together in our State House to lift our children and their futures by Celebrating PUBLIC EDUCATION WEEK in Ohio.
From the powerful driving beat of the Mighty Shaw Marching Band, to the love of creating Art in a community bonding 5th graders with adults with Alzheimer's, to the performance art of the Poetry Slam, to the incredible Top 3 Award winners in the Stand Up for Public Education videos, to the teaming together of 1st grade deaf children with their first grade hearing friends spreading their message: "We love to LEARN TOGETHER!"
What we have witnessed together during CELEBRATE PUBLIC EDUCATION proves that state "takeovers" of Ohio's public-school districts are not the solution to educating our struggling children who live in poverty and trauma.
Dismantling, disrupting and turning over our public schools to private CEOs and for-profit operators with little or no educational expertise is not the answer. We need to keep our neighborhood public schools OPEN.
Every cent of public funding needs to be re-invested in educational expertise, strategic resources and "wrap-around services" to support our children and the challenges they face in school.
Public Education Partners invites Ohio's legislature and Governor DeWine to come together on common ground for Ohio's children by re-investing in Ohio's Public School Districts. Passing and funding legislation to support Ohio's Public Schools in embracing "wrap-around models" to connect children and families in poverty and trauma with community resources onsite will finally address the real root of the "achievement gap" in our public schools.
Together, we will "Stand Up for Ohio's Public Schools!"
~Maureen Reedy – Public Education Partners