There is much more to Social Emotional Learning (SEL) than wanting to help students cope with their emotions. That goal can be accomplished by ensuring every public school has enough counselors and psychologists, and that every family has access to mental health services. There's evidence that access to arts programs and increased time for recess and play in elementary school result in happier students.
But instead, tech companies are rolling out Class Dojo for teachers to micromanage and report student behavior and algorithms that interpret data collected with every keystroke while students are doing schoolwork on devices. The Social and Emotional aspects of students seem terribly involved with grit, cooperation, buckling down and doing what they're told.
What about empathy? Compassion? Kindness? Taking care of the environment?
Check the blog "A Wrench in the Gears" to understand the underlying goal: data is profitable. https://wrenchinthegears.com/ Are parents comfortable with schools using computers to collect SEL information about their children, which will be available to third parties without parents' permission? FERPA laws were relaxed to allow this. There's no way for parents to find out what data will be collected, what the data says about their children, and how that data will be used.
There are already plans for turning SEL information into profits for investors. SIBs, (Social Impact Bonds) rely on measuring the mental health of children as young as preschoolers "before" and "after" an intervention (which will be sold to the school district to implement), and any improvement that saves the district money will go into the pockets of investors. This is yet another way Zuckerberg and Gates have cooked up to funnel school tax money into their pockets.
Years ago when psychological information was kept locked in the school psychologists' offices, shared with only teachers who had reason to know about it, and shredded when students graduated, no one had cause to worry that information would be shared with third parties.
Years ago, all psychological data on students was created by trained psychologists who personally observed the students and who were acquainted with them — now it's a computer algorithm, and the data will follow a student throughout out his or her life. This is not hyperbole. It's happening because technology made it possible to do.
Tech companies are excited about "wearables" that would transmit physiological information about students directly to the algorithm that will interpret what that data "means" about a student's ability to stay focused, persevere, cooperate, get the right answers, etc.
Let's not put our trust in tech companies and investors rather than school personnel when it comes to assessing a child's emotional well-being and deciding what to do to help him or her. Here's a small example from KnowledgeWorks, based in Cincinnati, which is deeply involved in Ohio's Strategic Plan for Education. This is a scene from a futuristic after-school program for a 4th grader.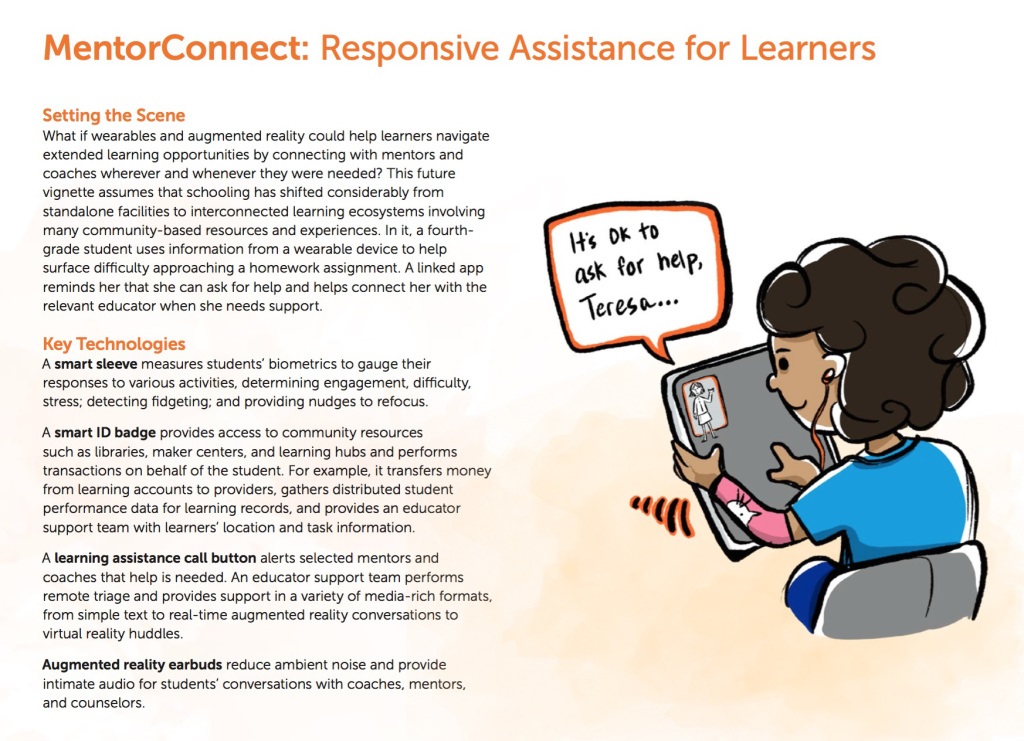 Upon entering the building, the device on her arm automatically downloaded homework to do after a day at school, sitting with her friends who are also plugged into devices — instead of playing, for goodness sake! If she pauses too long, the device senses it and sends help in the form of the voice of her teacher (not a real human, just her recorded voice), to encourage her to stay on task.
Tech companies and profiteers should never be trusted with the mental health of our students.