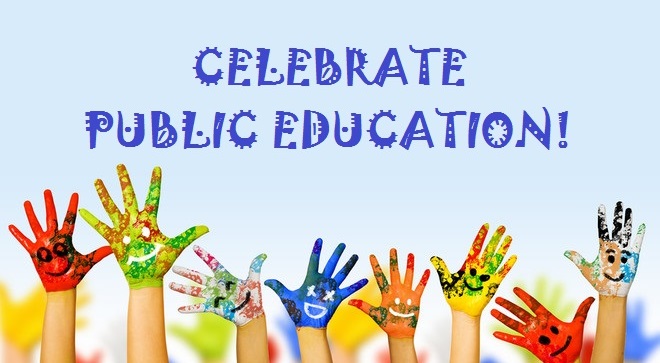 Something beautiful happened at the Ohio Statehouse recently. Public Education in Ohio was celebrated. It was as if a balmy breeze washed away the criticism and blame cast over our public schools during the past decade. Instead of "from Sea to Shining Sea," it was from "the Great Lakes to the Ohio River," as elementary and high school students, teachers and principals shared their expertise and passion for teaching and learning in the grandeur of the Statehouse atrium. Invited by Public Education Partners (PEP) during PUBLIC EDUCATION WEEK in Ohio, students and their teachers made history in the first "Celebrate Public Education" ceremony on January 23.
Imagine being welcomed to your seats by the powerful, melodic sounds of Brecksville-Broadsview Heights High School Jazz Ensemble, as twenty high school musicians confidently and proudly played their hearts out for the audience. Mr. Jason Wyse, Director of Bands for BBHHS, articulated his belief in the impact of teaching and value of public education; "Educating and inspiring students through the art of music, to study and perform this universal language and positively impact the lives of so many young people is celebrating public education!"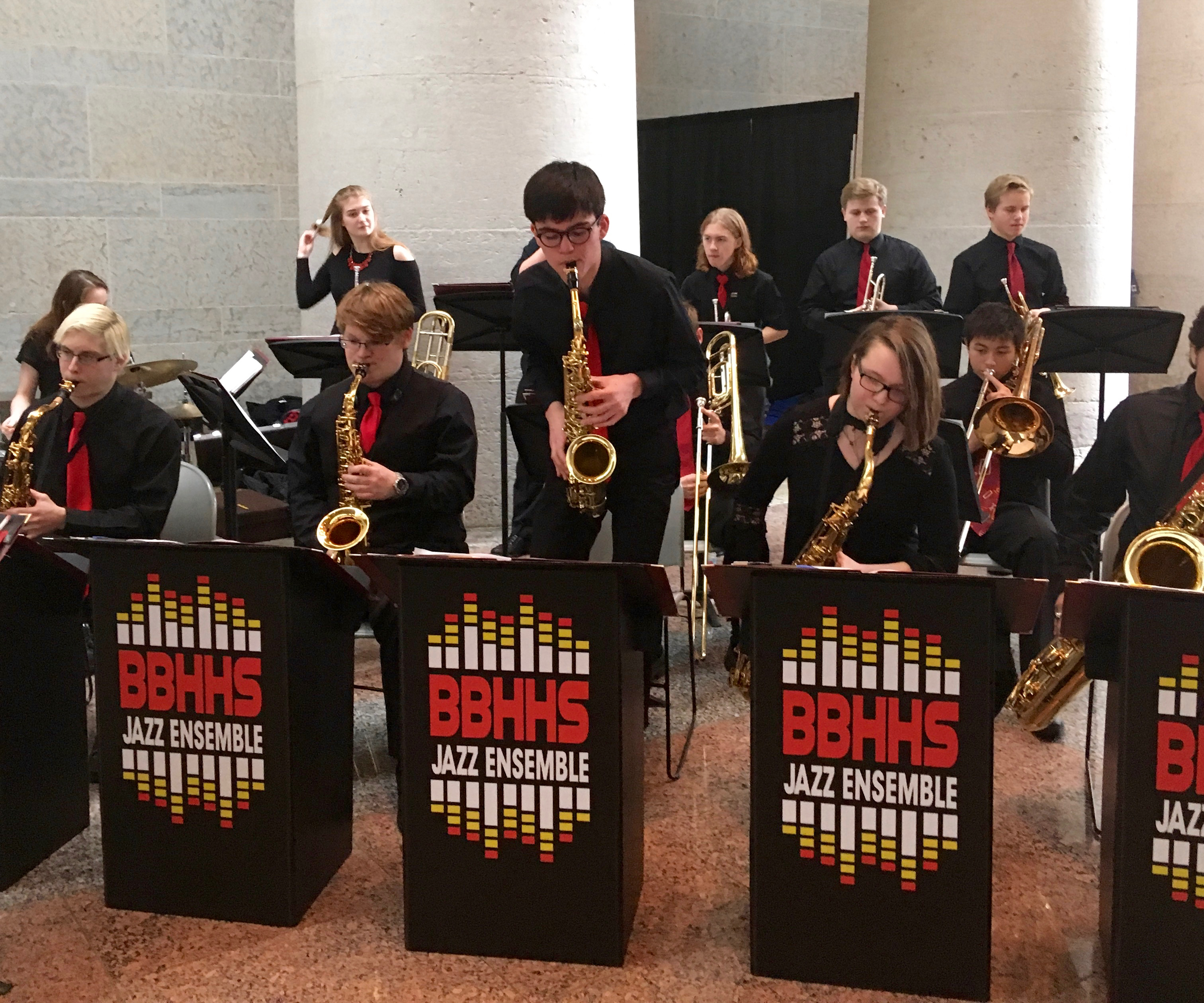 Imagine kindergarten students from Huy Elementary School in Columbus, using American Sign Language, sharing their artwork and favorite part of school each day. With help from their teacher and interpreter, these bright children, enrolled in the Columbus Hearing Impaired Program (CHIP), reached out smiling and grabbed the hearts of the audience with their strength and love for their school. "We are honored to serve hearing impaired children from the ages of 3 – 22; our teachers have a wealth of knowledge of Deaf Education and language development," said Britt Mickley, Kindergarten teacher, and Denyse Woods, Principal. "We are honored to Celebrate Public Education and continue the hard work we put forth for our students each day!"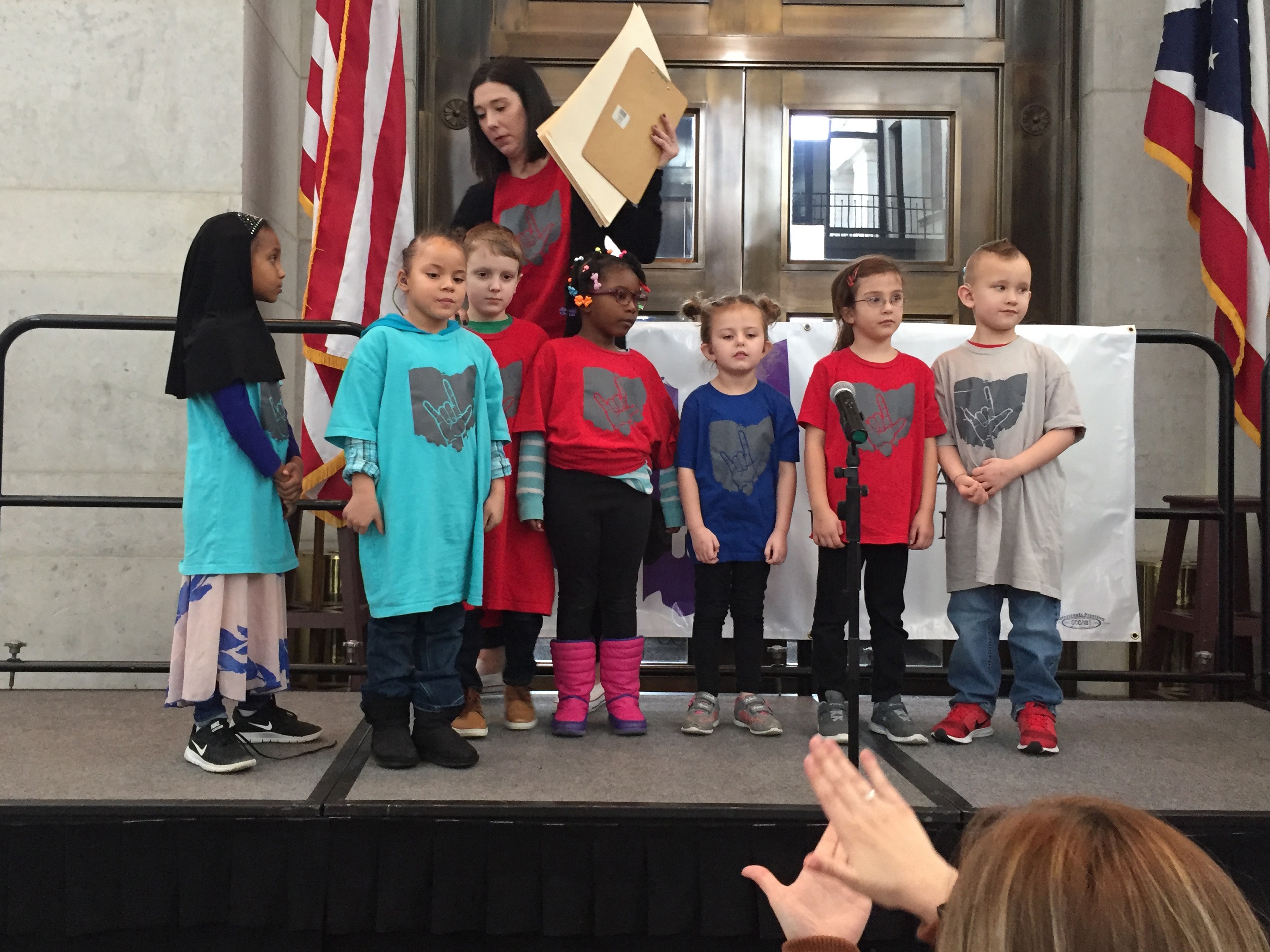 "I love Huy because I love math." – Amari Rose
"I love Huy because I love cooking with my friends." – Hope
"I love Huy because I love music class." – Ani
"I love Huy because I love going to lunch with my friends." – Carson
"I love Huy because I love Centers." – Hibo
"I love Huy because I love computer lab." – Kasidee
"I love Huy because I love all my friends." – Braxten
The wide-eyed excitement of a group third graders from Eakin Elementary School was contagious. These captivating kids, who recently left homes behind in their native countries to move to America, courageously stood on stage and shared their hand-drawn artistic letters spelling out their belief in "PUBLIC SCHOOLS." Kelly Montgomery, third grade teacher, is on a mission; "One of my missions is to keep experienced teachers in our urban public schools. I believe strong public schools are critical to providing learning opportunities for children from all around the world to understand and appreciate each other's differences. My students from different countries and cultures bring their unique experiences and traditions into our classroom to grow together into a community, celebrating our learning together."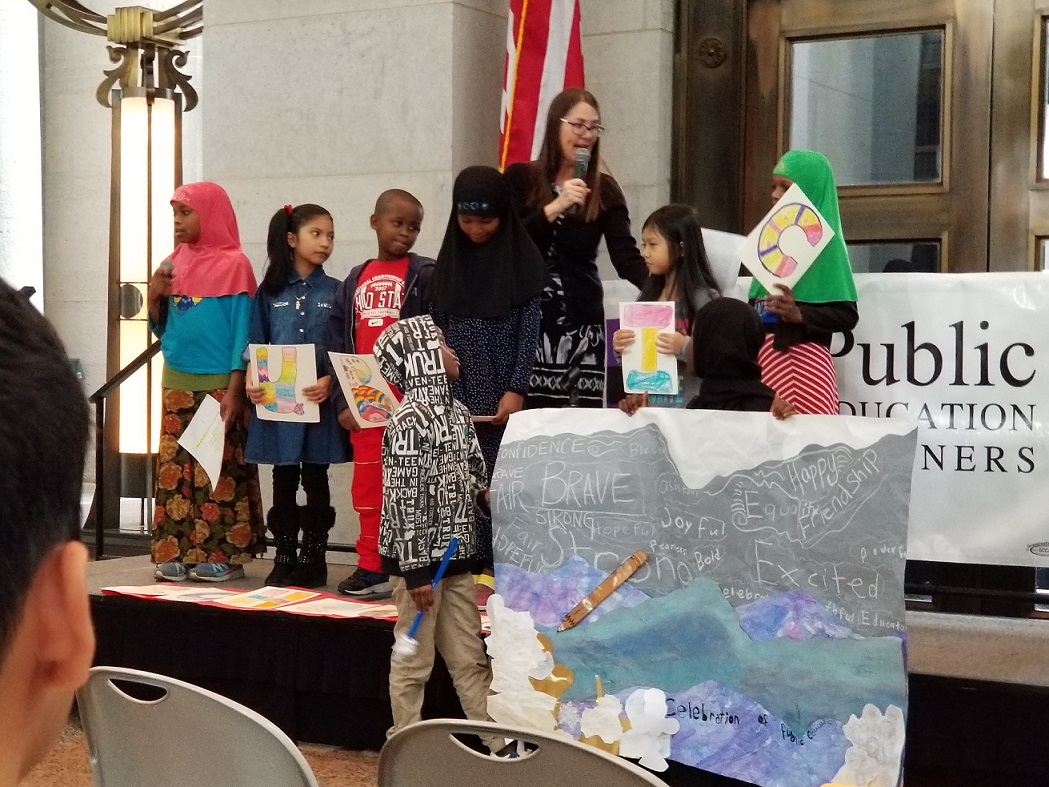 Our PUBLIC SCHOOLS… by Ms. Montgomery's 3rd Grade Class (Eakin Elementary School)
P   … we believe that all PEOPLE
U   … are UNIQUE
B   … and have the right to BELONG
L    … and LEARN
I     … and be INSPIRED
C    … within a COMMUNITY
S   … these places should be SAFE
C   … for all CHILDREN with no COST
H   … they should be HAPPY places
O   … and OUTSTANDING places
O   …  that are not OVERCROWDED
L    …  Children should LOVE to come to school
S    … and be SUCCESSFUL! 
These places are called PUBLIC SCHOOLS!
Ohio's public schools are full of innovative teachers and learners! Bexley High School students brought thinking "outside the box" to life in the Statehouse through powerful poetry readings and articulate testimonials about the impact their school has had on their lives. In Bexley City Schools, teachers and students partner together in the innovative English Resource Center, which has hundreds of drop-ins, appointments and referrals during the school year for developing and enriching reading, research and writing skills. Peer-tutoring expands the reach of the ERC as a core team of thirty students travel to classrooms and present writing lessons to other students. As a career public school teacher in urban, rural and suburban districts, Rikki Santer, the Director of the ERC, shared her firm belief that "each and every child in our great democracy deserves equal access to the very best educational practices possible, and that's why a healthy and robust public education system is fundamentally critical to the present and future of our country." https://www.bexleyschools.org/domain/506
While the gifts of teaching and learning were shared front and center on the Statehouse stage, the extreme challenges children face in their lives were not. Opening doors to all children in our public schools brings a shared responsibility for teachers and principals to help students and families through increasingly tough times today. The vision of building bridges of help and hope between our public schools and neighborhood communities was shared on stage as part of the Celebrate Public Education event.
Theresa Eraybar, Principal of Eakin Elementary School of Columbus City Schools believes that by saving families, children can be saved; "Today's students work to overcome obstacles which may be overt or covert. I believe it is through Public Education our students and families develop strong skills as they navigate the many challenges that face their community."
Imagine if, in every single public school in your district, a community resource center existed housing social workers, medical clinics, after school programs and tutors to help parents earn their GEDs. This bold vision has turned into a concrete reality with Cincinnati Public School's nationally recognized Community Learning Centers program. Julie Doppel and Ife Bell, CLS coordinators, stressed the importance of communities investing in their public schools: "Students at CPS start here and go far – with a strong public education supporting them. We're accomplishing this because of the strong support and investment our community is making in public schools. Our enrollment is increasing, we're expanding innovative programs at the preschool, elementary and high school levels, and over 700 partners are contributing to the ongoing success of our nationally recognized Community Learning Centers." To learn more about Community Learning Centers, watch this video from the Coalition for Community Schools' 2012 Study Tour of CPS's Community Learning Centers: https://vimeo.com/55401554
"Standing Up for Public Education" literally "lit up" the screen at the Statehouse as Kenston and Logan Public High School students shared their award -winning videos showing how public schools have made a difference in their lives. As Ryan Novak, Multi-media/Journalism teacher at Kenston High School so eloquently expressed, having fun and working hard are not mutually exclusive in school: "There are so many opportunities made available to students through public education. Regardless of a student's interests, there is some sort of class, club, activity or sport made available to help him or her grow. Thanks to the support of our school board, administrative team, staff and community, students like these have a great opportunity to learn in an environment that meets their needs."  Celebrating the screening of these "Stand Up for Public Education" videos with these student writers, actors and directors as they blended history, journalism, free press and multimedia skills delivered the message to the public that their "Public Schools Matter!"
Kenston Local (Geauga) Schools:
Logan-Hocking Local (Hocking) Schools:
Public Education Partners would like to give a huge shout out and thank you to all the teachers and students for "Celebrating Public Education" with us! You brought your hard work and joy through teaching and learning to the Statehouse and back home again to your schools across the state of Ohio. From the "Great Lakes to the Ohio River," you showed us that your PUBLIC SCHOOLS are the heartbeat of your communities. Cincinnati Public Schools and Eakin Elementary School, thank you for spreading the vision of investing in our public schools with community learning centers, building bridges of help and hope for students and their families facing complex challenges in their lives.
Let's take a lesson from all the students who traveled to the Statehouse to share their love of learning and passion for their public schools. Let's follow the lead of the amazing "Stand Up for Public Education" videos by investing in widespread resources for schools with a full curriculum, including music, art, drama and technology.  Let's begin the conversation back home, in our school communities by asking, "Why not create Community Learning Centers in school districts across the state to connect each school and community as the way forward for our children to learn, thrive and have fun in school each day?"
Why not send the message to our children that their daily lives, futures and Ohio's public schools matter?"
~Maureen Reedy