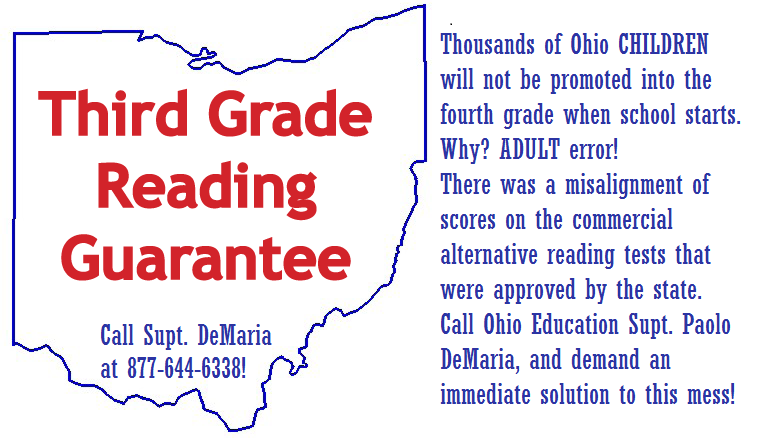 Some state officials claim that the students caught up in this problem may be "marginally" proficient and therefore could benefit from the additional intervention in the retention programs. They also argue that the mid-term promotion option will take care of most of the current misalignment problem. This reasoning, while largely true, fails to recognize the social and emotional impact on the individual students and their families.
The 3rd Grade Reading Guarantee is no guarantee at all. There is significant research that shows that for many students their performance on the 3rd Grade Reading Guarantee is not a valid predictor of their later academic success. Then there are many issues around the kinds of intervention practices that are employed to address reading deficiencies. There is no clear prescription for reading intervention, and many districts simply do not have the resources to provide what they believe is appropriate.
Just as there is no level playing field in school funding, there is not level field in a district's capacity to provide the needed reading intervention.
What needs to happen? The Department of Education needs to immediately initiate a "linking" study with the test vendors. If there is evidence of a serious misalignment between the state reading test and the four state approved alternative tests, then a study to determine appropriate cut scores for the alternative tests should be completed as soon as possible.
There is ample anecdotal evidence that this is indeed a statewide problem that has ensnared thousands of third graders across Ohio. Columbus City Schools has over 500 third graders retained unfairly. The accountability heads of several of the largest urban districts in the state have compared student performance data and concluded that they are experiencing the same problem.
Please share this information with all parents and family members of students caught in this mess. They should contact both their legislators and members of the State Board of Education, as well as Ohio Education Supt. Paolo DeMaria, to express their frustration and disappointment – they also need to ask Supt. DeMaria what he plans to do to fix this major problem.
Find legislator contact info here: https://www.legislature.ohio.gov/legislators/find-my-legislators
Contact state BOE members: https://education.ohio.gov/State-Board/State-Board-Members
Email Supt. DeMaria at superintendent@education.ohio.gov or better yet, call him at 877-644-6338 to demand an immediate solution.
Thanks to PEP Board member Russ Harris for creating this important call-to-action!