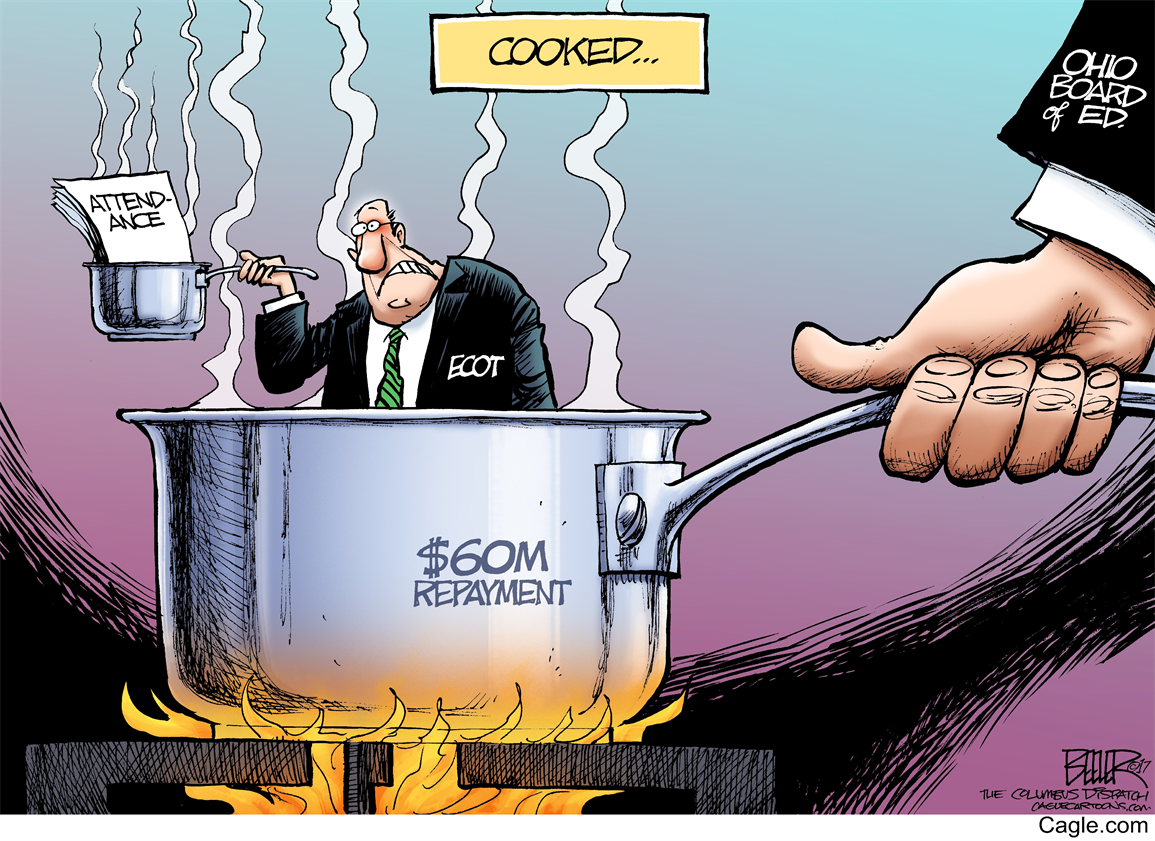 Ohio School district officials should determine how much has been deducted from their districts for ECOT and send an invoice directly to William Lager, the ECOT Man.
Since ECOT can only account for student participation for 20% of the time required, it would be appropriate to invoice ECOT for 80% recovery.
Look at the money that's been transferred from Ohio public school districts to ECOT during the 2015-16 school year:
Columbus City $11,744,302.64, Cleveland Municipal $6,931,517.75, Dayton City $3,597,673.50, South-Western City $3,066,207.35, Cincinnati City $2,790,063.53, Toledo City $1,992,107.94, Akron City $1,705,463.86, Hamilton City $1,300,617.23, Groveport Madison Local $1,229,666.61, Elyria City $1,170,649.73, Parma City $1,130,063.42, Warren City $1,111,737.36, Lorain City $991,340.65, Middletown City $826,577.52, Canton City $798,659.64, Mansfield City $754,528.94, Lima City $753,442.77, Huber Heights City $747,660.76, Westerville City $740,563.94, Youngstown City $728,117.37, West Clermont Local $720,475.73, Lancaster City $710,220.90, Euclid City $681,004.69, Springfield City $596,603.50, Berea City $577,143.54, Northwest Local $577,116.84, Xenia Community City $558,750.84, Newark City $492,043.88, Delaware City $477,222.72, Willoughby-Eastlake City $476,145.94, Hamilton Local $461,377.03, Hilliard City $459,453.20, Trotwood-Madison City $450,483.75, Ashtabula Area City $447,237.66, Kettering City $446,738.66, Portsmouth City $444,121.93, Maple Heights City $442,776.20, Mount Vernon City $441,619.76, Whitehall City $438,718.92, Cleveland Hts-Univ Hts City $436,945.21, Brunswick City $419,335.86, Mount Healthy City $417,642.09, Circleville City $416,652.34, Fairfield City $414,308.64, Niles City $403,059.42, Sidney City $402,569.53, Reynoldsburg City $392,550.53, Pickerington Local $391,712.19, Barberton City $388,495.73, Licking Heights Local $382,304.52, Chillicothe City $378,317.36, Garfield Heights City $377,480.87, Mad River Local $370,947.59, Lakota Local $361,005.90, Ravenna City $355,150.74, Piqua City $351,838.36, West Carrollton City $345,523.08, Worthington City $340,198.48, Oak Hills Local $338,436.46, Marysville Ex Vill $325,761.84, Madison Local $324,667.78, Teays Valley Local $322,416.78, Washington Local $318,804.62, Riverside Local $317,310.38, Wilmington City $307,221.20, Fairborn City $305,696.00, Washington Court House City $299,676.86, Gahanna-Jefferson City $299,474.28, Alliance City $295,013.75, Mentor Ex Vill $294,843.08, Lakewood City $294,424.75, Painesville City Local $293,200.72, Miamisburg City $287,456.34, Northmont City $285,690.01, Eaton Community Schools City $283,260.79, Marion City $282,823.92, Franklin City $277,134.08, Bedford City $276,913.11, Logan-Hocking Local $271,824.59, Beavercreek City $265,492.09, Hillsboro City $259,577.18, Midview Local $259,335.68, Conneaut Area City $258,660.22, Southwest Licking Local $258,422.04, Batavia Local $257,910.50, Chardon Local $256,095.21, Canal Winchester Local $254,620.34, Cloverleaf Local $251,637.80, Madison Local $251,277.68, Cuyahoga Falls City $251,193.81, Sandusky City $248,095.87, Southwest Local $244,897.55, North Royalton City $241,140.61, Tiffin City $234,802.60, Green Local $230,409.81, South Point Local $227,149.02, Paulding Ex Vill $226,523.18, South Euclid-Lyndhurst City $221,661.46, Strongsville City $220,536.62, Troy City $220,458.40.
Just think what those school districts could do with refunds of 80% of what they've handed over to the ECOT Man!
Local school districts, or any taxpaying Ohio citizen, can use the "Know Your Charter" website to fill out the ECOT Invoice Resolution template found below, and then send to Bill Lager, the ECOT Man, 3700 S. High St., Suite 95, Columbus, OH 43207. Fax: 614-492-8894
School districts should make sure to send a copy to the Ohio Department of Education, so ODE will know how much is owed to each district.
Know Your Charter: https://knowyourcharter.com/?view=charterDetail&id=300
RESOLUTION TO Invoice the ECOT Man for Deductions from State Funding
WHEREAS, it is the statutory duty of the _____________________ School District Board of Education to deliver the educational programs and services to the school children of the _____________________ School District, and
WHEREAS, the members of the Board are elected by the school community to ensure an effective, efficient, vibrant and productive system, and
WHEREAS, the elected board of education has a legal responsibility to the community, including taxpayers, parents, and other patrons, as well as the state, and
WHEREAS, the Electronic Classroom Of Tomorrow (ECOT) now extracts over 100 million dollars ANNUALLY from public school districts across the State of Ohio, and
WHEREAS, school district boards of education have no control of students, financing, educational programming, and student outcomes for those who enroll in ECOT, and
WHEREAS, ECOT demonstrates low academic performance compared to traditional public schools, and
WHEREAS, the ________________________ School District has lost a total of $_____________ in state AND local funding to ECOT, and
WHEREAS, ECOT can only account for student participation for 20% of the time required, and
WHEREAS, the ________________________ School District Board of Education has a fiduciary responsibility to the students and taxpayers of the District, be it therefore
RESOLVED that the Board of Education directs the Treasurer of the District to invoice ECOT for 80% of the funds extracted from the ________________________ School District for ECOT students, at a grand total of_______________.
Adopted______________
Call attention to how money is being taken away every year from traditional public school systems to support ECOT, an unaccountable e-school that traditionally has much lower academic achievement rates than public schools.
Join the revolution, and send a resolution- to the ECOT Man!
We are many. There is power in our numbers. Together we will save PUBLIC EDUCATION.
~Diane Ravitch