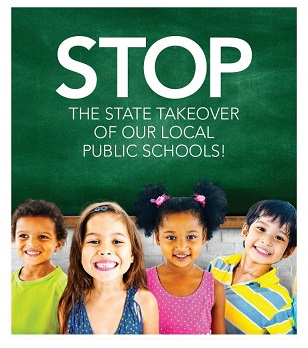 School districts in economically-distressed areas generally have low grades on the state report card; conversely, school districts in affluent areas have high grades. One could travel through a county or region of Ohio and predict the report card grade of the various school districts.
Students (and school personnel) in poverty areas need help from the state to implement wraparound services, not a grade of F.
Why can't state officials understand the futility of using the report card as a tool to takeover school districts? Do some of them have a sinister agenda? Maybe some want to set the districts up for privatization.
HB 70 of the 131st General Assembly should be repealed.
~William L. Phillis, Ohio Coalition for Equity & Adequacy of School Funding
The Facts About State Takeovers of Public Schools, The Alliance to Reclaim Our Public Schools: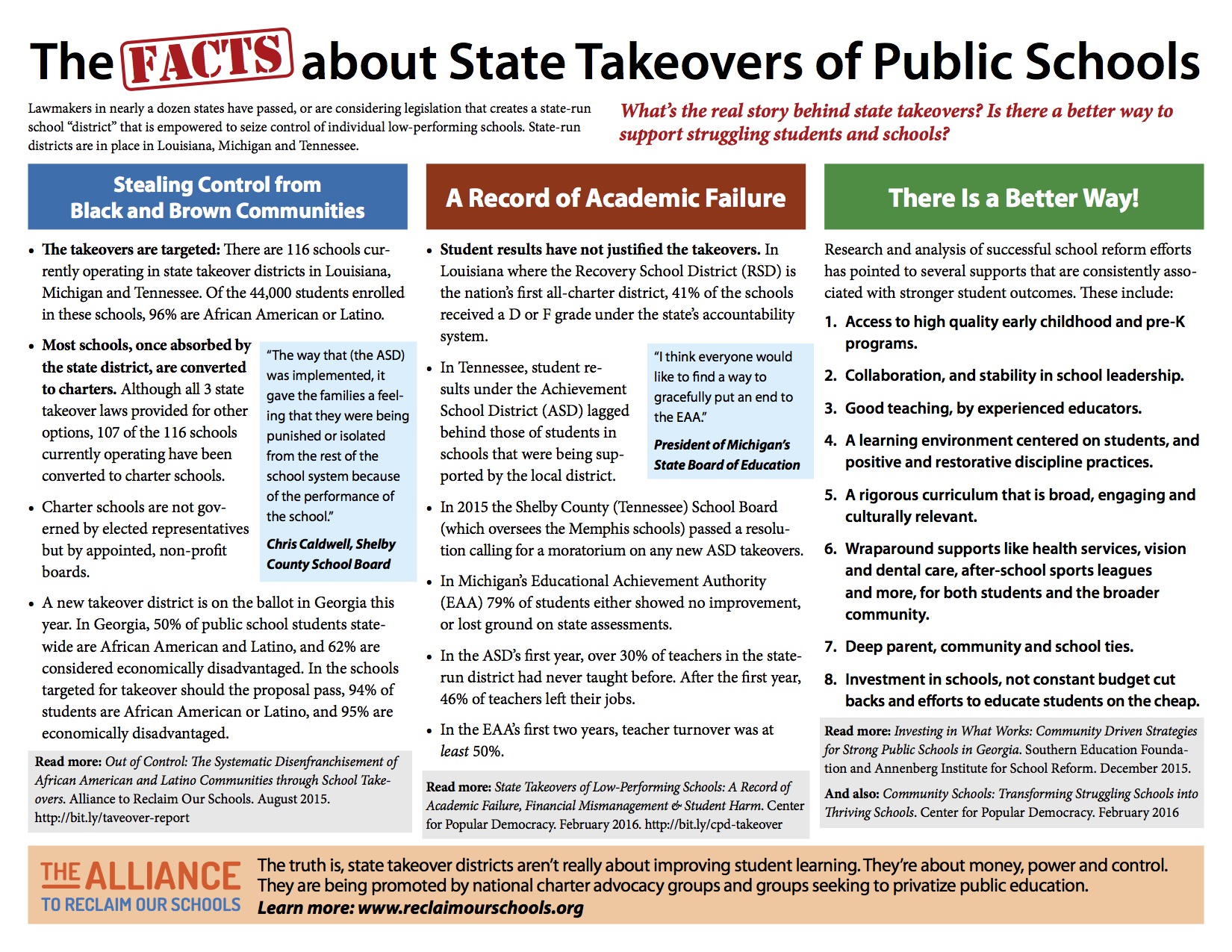 State-run districts have not improved academic outcomes for most students. Instead, they have served as a mechanism for wholesale conversion of public schools to charters, and to disenfranchise tens of thousands of African American and Latino voters.
There IS a better way than school takeovers!
Research and analysis of successful school reform efforts has pointed to several supports that are consistently associated with stronger student outcomes. These include:
1. Access to high quality early childhood and pre-K programs
2. Collaboration and stability in school leadership
3. Good teaching by experienced educators
4. A learning environment centered on students, and positive and restorative discipline practices
5. A rigorous curriculum that is broad, engaging and culturally relevant
6. Wraparound supports like health services, vision and dental care, after-school sports leagues and more, for both students and the broader community
7. Deep parent, community and school ties
8. Investment in schools, not constant budget cut backs and efforts to educate students on the cheap
Podcast on state takeovers: https://soundcloud.com/haveyouheardpodcast/takeover
Excellent book by Prof. Domingo Morel:
https://global.oup.com/academic/product/takeover-9780190678975?cc=us&lang=en&
Ongoing online petition to repeal HB 70: http://chng.it/wtFbRD25
State takeovers of school districts, followed by the appointment of CEOs with power to override the decisions of elected school boards and nullify union contracts, are undemocratic, unaccountable, and unacceptable.
Let's work to REPEAL HB 70!